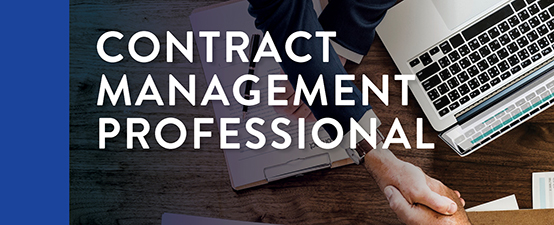 Overview
The Contract Management program is designed to provide professional education that will drive your success in the field of contract management and administration. The foundation of our program is that it reflects the current industry practices and the highest standards of the profession in government, commercial and non-profit procurement, ensuring students effectively navigate the contracting process. Contract Management is unique in that it is an important business specialization, yet the coursework also offers a very broad perspective that informs the responsibilities of every Contract Manager. As a result, though the skills obtained in our Contract Management program are focused on government contracting, these same skills are can be utilized in other contracting areas as well.
CTM100: Contract Management Essentials (24 hours)
An introduction to the program of study, providing the student with an overview of Contract Management philosophies, principles, processes and terminology. Particular attention will be paid to the phases of Contract Management: acquisition strategy, pre-award, contract award, post-award and contract closeout.
CTM200: Proposal Management (12 hours)
This course is intended to help you, the contract manager, consistently win contract competitions in a more effective and efficient manner by applying best practices in a practical approach to developing a winning proposal. You'll learn to decipher the RFP, understand the proposal preparation process, development proposal themes that will influence the evaluators. Throughout students will learn to maximize the proposal management process, including the technical aspects, format and graphics considerations.
CTM300: Business Law for Contract Management (12 hours)
This course covers the foundation of Business Law. As such, it is an introduction to the nature, formation and application of law in the U.S. legal system. Topics include: American public law; federal/state/local law governing business and industry; torts and contracts; litigation and arbitration; regulatory law; labor and employment law; compensation law; consumer protection; and law as it relates to profit/nonprofit and public/private sector organizations. Students will apply course content and case law to a real world legal issue. The course begins to address the overall Uniform Commercial Code (UCC), governing contracts for the sale of goods, including contract formation, warranties, and remedies.
CTM400: Government Contracting (12 hours)
In this course, students will acquire an understanding of the formation and administration of a contract in accordance with Common Law, the Federal Acquisition Regulation (FAR), and the Uniform Commercial Code (UCC). Other areas covered include contract types, contracting authority, contract terms and conditions, contract changes, defaults, communication between parties, contract termination, conflict resolution and claims. This course is an introduction to government contracting, giving you the information you need to understand procurement from start to finish as it relates to the U.S. government activities — from acquisition planning through contract closeout. You'll learn how federal contracting really works, how to find solutions to common problems, how to understand the content of the FAR and contract documents and how the regulatory environment impacts business decisions. You will study the Federal Acquisition Regulations (FAR) in depth. You will use your FAR extensively throughout the course as you research a wide range of topics. You will learn how the FAR is structured, maintained and updated so that you will be able to use it to your full advantage in your ongoing development as a contracting professional. This is important coursework for anyone who manages, monitors, or serves as subject matter experts on contracts. You will learn the approach to manage contractors, ensure compliance to the statement of work, and ensure contractor performance.
If you are interested in enrolling in the entire certificate, visit: CTMGT1.PRO: Contract Management Professional
Hours and CEUs
60 Hours | 6 CEUs