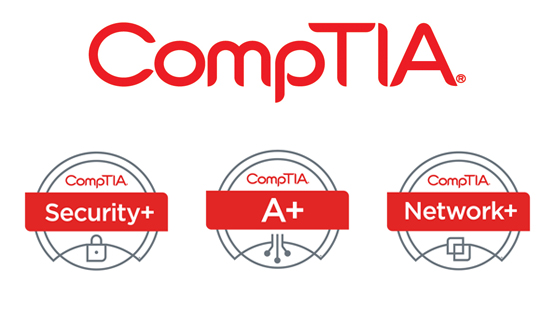 Overview
In this bundle we combine all CompTIA certifications so you can become a CompTIA expert!
In this instructor-led, self-paced online training course with a focus on CompTIA A+ certification exam preparation, you'll gain the needed knowledge of basic computer hardware and operating systems. You will cover the essential principles of installing, building, upgrading, repairing, configuring, troubleshooting, optimizing, and preventative maintenance on desktop and laptop computers.
The CompTIA® Network+ course builds on your existing user-level knowledge and experience with personal computer operating systems and networks by presenting the fundamental skills and concepts you will use on the job in any type of networking career. If your job duties include network troubleshooting, installation, or maintenance, or if you are preparing for any type of network-related career, this course will provides the background knowledge and skills you will need to be successful. The course will also assist you if you are preparing for the CompTIA Network+ certification.
The Security+ certification is an international, vendor-neutral certification. The certification is proof of a person's competence in system security, network infrastructure, cryptography, assessments and audits. This certification is designed for IT professionals who already have Network+ certification and two years of technical networking experience, with an emphasis on security.
This course provides a comprehensive review of security topics and exam preparation for the CompTIA Cybersecurity Analyst (CSA+). The CompTIA CSA+ is an international, vendor-neutral certification that validates the skills required to combat malware and threats through the application of behavioral analytics. The examination is considered an intermediate-level credential for cybersecurity professionals.
The CompTIA Advanced Security Practitioner (CASP) course provides a 5-day, interactive, classroom-based review of topics and exam preparation. The CompTIA Advanced Security Practitioner certification is an international, vendor-neutral exam that proves competency in enterprise security; risk management; research and analysis; and integration of computing, communications, and business disciplines.