Course Description
Join us for our free Webinars and take a deeper dive into topics that are relevant to you, your career and your professional development.
Short Format: 30 to 60 minute sessions make it easy to fit in the content during your lunch or a mid-day break.
Relevant Topics: Each session will focus on topics that are important to you.
Bring Your Questions: Session includes Q&A during or after.
Connect with WebEx or Zoom: Sessions will be hosted virtually using WebEx or Zoom, which means set-up is easy.
Fall Stress Management Webinar Series
Managing Stress at Work and Home: Tools for Renewing Mental, Physical and Emotional Resources
Presented by Jennifer Giancola, Ph.D.
With changes in our work and home environments, employees experience more personal and job stress. This webinar series provides practical tools to not only help manage stress, but also become more resilient to demands. Participants learn how to renew themselves mentally, physically and emotionally to enhance well-being and productivity. By the end of this webinar series, you:
Understand your warning system for stress
Learn tools for dealing with stressors and renewing personal resources
Practice techniques like complex movement and deep relaxation
Implement a stress management action plan
September Webinar
Session 1 - Wednesday, Sep 15th @ 12 PM - 12:45 PM
The first webinar introduces a comprehensive approach for understanding how life's demands impact short- and long-term stress, health and performance. You begin building a toolkit to replenish mental, physical and emotional resources. You learn how to stay centered, maximize focus and remain calm at work and home.

October Webinar
Session 2 - Wednesday, Oct 20th @ 12 PM - 12:45 PM
The second webinar in this 3-part series focuses on mental and physical renewal and resiliency. You learn tips for managing time and breaks in order to reduce stress and increase productivity. You practice tools that can increase mood, energy and concentration.
November Webinar
Session 3 - Wednesday, Nov 17th @ 12 PM - 12:45 PM
The third and final webinar teaches more advanced stress management tools. You learn ways to stop unproductive thinking and promote a positive mindset. You practice relaxation techniques that provide deeper renewal of resources.
About Jennifer Giancola, Ph.D.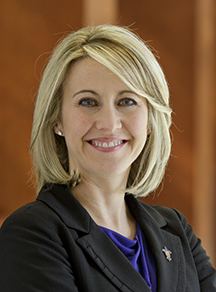 Dr. Giancola is an accomplished trainer and consultant in the areas of workplace stress and burnout, employee mentoring, and organizational development and strategy. Over the last 26 years, Dr. Giancola has worked with numerous companies as well as management and staff at all levels including organizations like Phillips 66, Anheuser-Busch, Dierbergs and New York Medical Center. Her work relies on a scientist-practitioner model that is firmly grounded in experience and research, culminating in several publications in the field. Jennifer holds masters and doctoral degrees with an emphasis in organizational psychology, and is Professor at Saint Louis University's School for Professional Studies. She is a member of the St. Louis Organizational Development Network, Society for Industrial-Organizational Psychology and the American Psychological Association. Dr. Giancola received Saint Louis University's Women of the Year and the YWCA's Leadership in the Workplace awards.
This webinar series will use the video conferencing tool Zoom Webinar and will be eligible for digital badges. Sessions will run for 45 minutes, and you can register for 1 or more sessions.
Enroll Now - Select a section to enroll in
Required fields are indicated by .
*Academic Unit eligibility to be determined by college/university in which you are enrolled in a degree seeking program.