Course Description
Scrum is a very useful agile framework for completing complex projects. A Certified ScrumMaster® (CSM) helps project teams properly use Scrum, increasing the likelihood of the project's overall success. CSMs understand Scrum values, practices, and applications and provide a level of knowledge and expertise above and beyond that of typical project managers. CSMs act as "servant leaders," helping the rest of the Scrum team work together and learn the Scrum framework. CSMs also protect the team from both internal and external distractions.
In this intensive two-day Certified ScrumMaster® Workshop, taught by a Scrum Alliance Certified Scrum Trainer, students will learn how to put theory into action through a variety of exercises, case studies and in-depth discussions. Topics include the fundamental principles of Scrum which will qualify you as a Certified ScrumMaster. But more importantly the class will give you a jump start in dealing with the obstacles that confront Scrum teams. Overall, you'll leave much better equipped to put Scrum in place and succeed with it.
Students MUST attend ALL sessions of all courses in order to be eligible to sit for the corresponding certification exam.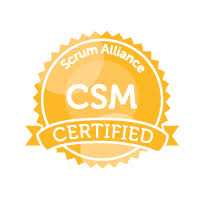 Course Outline
Gain hands-on experience with the basic principles of Scrum, including:
Product backlog;
Sprint backlog;
Daily Scrum meetings;
Sprint planning meeting;
Burn charts.
Practice dealing with the obstructions to high productivity on your Scrum team, such as:
Incomplete Definition of Ready / Definition of Done;
Valueless Sprint Reviews;
Non-commitment to continual improvements;
Misunderstanding of the 3 Scrum Roles.
Learn practical approaches to increasing productivity while increasing Product Owner and management satisfaction. Explore techniques for applying Scrum to traditional work environments
Additional Information
Following successful completion of the course, each participant will be eligible to take and fully equipped to pass the Certified ScrumMaster® exam. This certification includes a two-year membership in the Scrum Alliance, where additional ScrumMaster-only material and information are available. Beyond certification, participants will leave with hands-on practice with Scrum essentials and important experience. You will learn ways to help your teams execute Scrum efficiently and productively.
All CSM courses are taught by Trainers approved by the Scrum Alliance. Taking a CSM® course, passing the CSM® exam, and accepting the license agreement designates you as a Certified ScrumMaster®, which indicates that you have been introduced to and understand the basic concepts you need to perform as a ScrumMaster or team member on a Scrum team.
Participants are eligible for 16 Education Hours for the PMI Agile Certified Practitioner application and 16 PMI PDUs (Professional Development Units).
Duration
16 Hours
Applies Towards the Following Certificates
Required fields are indicated by .
*Academic Unit eligibility to be determined by college/university in which you are enrolled in a degree seeking program.