Course Description
The CompTIA Advanced Security Practitioner (CASP+) course provides a 5-day, interactive, classroom-based review of topics and exam preparation. The CompTIA Advanced Security Practitioner certification is an international, vendor-neutral exam that proves competency in risk management; enterprise security operations and architecture; research and collaboration; and integration of enterprise security. The course reviews all areas of the exam and covers the technical knowledge and skills required to conceptualize, design, and engineer secure solutions across complex enterprise environments. In addition, the application and testing process as well as key topics on the exam are covered.
CASP+ is compliant with ISO 17024 standards and approved by the US DoD to meet directive 8140/8570.01-M requirements. Regulators and government rely on ANSI accreditation because it provides confidence and trust in the outputs of an accredited program. Over 1.3 million CompTIA ISO/ANSI-accredited exams have been delivered since January 1, 2011.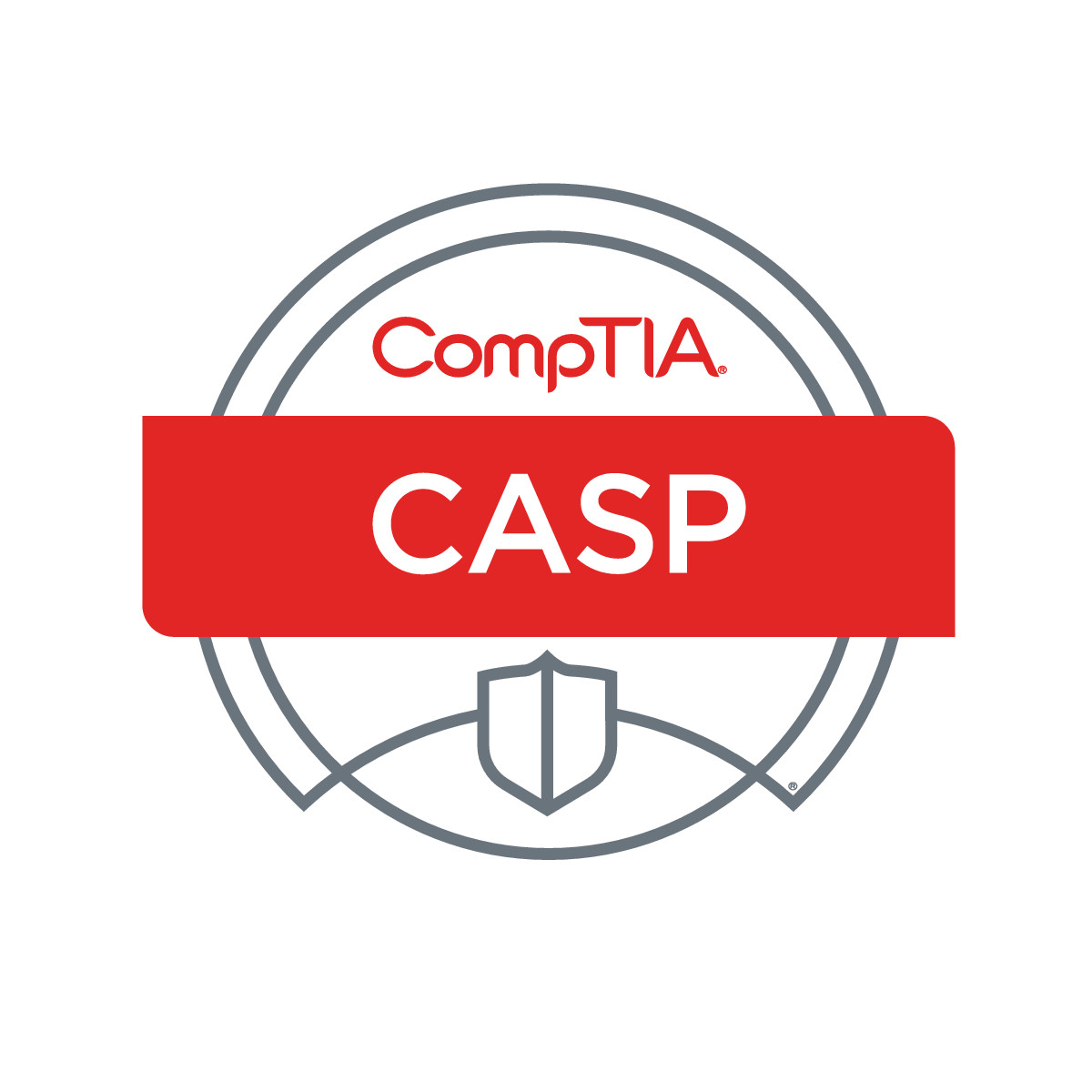 In this course, you will analyze and apply advanced security concepts, principles, and implementations that contribute to enterprise-level security.
Students will:
Support IT governance in the enterprise with an emphasis on managing risk.
Leverage collaboration tools and technology to support enterprise security.
Use research and analysis to secure the enterprise.
Integrate advanced authentication and authorization techniques.
Implement cryptographic techniques.
Implement security controls for hosts.
Implement security controls for mobile devices.
Implement network security.
Implement security in the systems and software development lifecycle.
Integrate hosts, storage, networks, applications, virtual environments, and cloud technologies in a secure enterprise architecture.
Conduct security assessments.
Respond to and recover from security incidents.
Course Outline
Performing Risk Management Activities
Explain Risk Assessment Methods
Summarize the Risk Life Cycle
Access and Mitigate Vendor Risk
Summarizing Governance & Compliance Strategies
Identifying Critical Data Assets
Compare and Contrast Regulation, Accreditation, and Standards
Explain Legal Considerations & Contract Types
Implementing Business Continuity & Disaster Recovery
Explain the Role of Business Impact Analysis
Assess Disaster Recovery Plans
Explain Testing and Readiness Activities
Identifying Infrastructure Services
Explain Critical Network Services
Explain Defensible Network Design
Implement Durable Infrastructures
Performing Software Integration
Explain Secure Integration Activities
Assess Software Development Activities
Analyze Access Control Models & Best Practices
Analyze Development Models & Best Practices
Explain Virtualization, Cloud, and Emerging Technology
Explain Virtualization and Cloud Technology
Explain Emerging Technologies
Exploring Secure Configurations and System Hardening
Analyze Enterprise Mobility Protections
Implement Endpoint Protection
Understanding Security Considerations of Cloud and Specialized Platforms
Understand Impacts of Cloud Technology Adoption
Explain Security Concerns for Sector-Specific Technologies
Implementing Cryptography
Implementing Hashing and Symmetric Algorithms
Implementing Appropriate Asymmetric Algorithms and Protocols
Implementing Public Key Infrastructure (PKI)
Analyze Objectives of Cryptography and Public Key Infrastructure (PKI)
Implementing Appropriate PKI Solutions
Understanding Threat and Vulnerability Management Activities
Explore Threat and Vulnerability Management Concepts
Explain Vulnerability and Penetration Test Methods
Explain Technologies Designed to Reduce Risk
Developing Incident Response Capabilities
Analyzing and Mitigating Vulnerabilities
Identifying and Responding to Indicators of Compromise
Exploring Digital Forensic Concepts
Additional Information
SLU's CompTIA CASP+ Course Kit (included in the course fee):
CompTIA Authorized Quality Curriculum (CAQC)
Realistic Exam Preparation Software with over 300+ practice questions
The Academic Unit Eligibility is based on contact hours, level of difficulty and certification exam results. Please note that college credit eligibility is a formal academic process that is unconnected to SLU's Workforce Center. We encourage all students to email their official exam results to info@workforcecenter.slu.edu so we can house pass/fail results in their student portal for verification.
Prerequisites
The CASP+ certification is designed to follow the CompTIA Security+ certification or equivalent experience and the course has a technical, hands-on concentration.
Duration
30 Hours | 5 Days or 10 Nights
Applies Towards the Following Certificates
Enroll Now - Select a section to enroll in
Required fields are indicated by .
*Academic Unit eligibility to be determined by college/university in which you are enrolled in a degree seeking program.