February Featured Instructor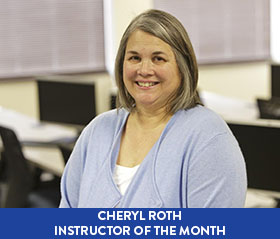 Cheryl Roth is an instructor and IT Training Coordinator for SLU's Workforce Center. She teaches Project Management and Business Analysis as well as Database, Business Intelligence and Analytics courses, including Trans-act SQL, PL/SQL, Pig and Hive, R Programming and Tableau. She has over twenty years of experience in course development, delivery of IT training seminars, and consulting services. Cheryl is an excellent instructor! She is able to communicate to her students difficult concepts at all levels and provide instruction needed to understand and succeed in any area of study. Cheryl also has a knack for developing learning plans that will benefit her students both now and in the future. Cheryl Roth is President of the Roth Group. The Roth Group has successfully provided IT and professional development training seminars nationally and internationally for the last 20+ years. Cheryl and her group have written and delivered hundreds of classes, focusing for the last several years on Big Data, Business Intelligence and Analytics, Security, .NET, databases, web application development, business analysis and project management. In addition, Cheryl is a Project Management Professional (PMP) and holds variety of other industry certifications.
Required fields are indicated by .
*Academic Unit eligibility to be determined by college/university in which you are enrolled in a degree seeking program.