March Featured Instructor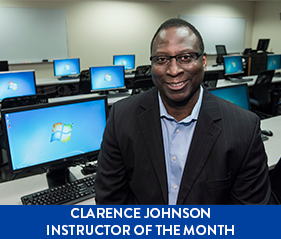 Clarence Johnson is an experienced and dynamic IT trainer and consultant at SLU's Workforce Center. Students all over the St. Louis area and beyond enjoy taking his classes and often request him for additional training. Clarence is able to connect with his students because he is able to communicate Cyber Security and Networking subjects in a clear and interesting way. He also is able to provide hands-on training in a variety of areas, an ability that stems from his experience as a computer/network engineer. Clarence has experience in the following areas: multiple operating systems (UNIX, Linux, and Windows), programming languages (C,PERL, PHP, Python, and UNIX SHELL), network equipment (Cisco, 3COM, and HP), networking protocols (TCP/IP, IPX, DecNET and AppleTalk) and emerging technologies. Currently, Clarence is the Manager of Information Security – Cybersecurity/Incident Response at SSM Health. Clarence has over 25 years of experience as a computer/network engineer with many Fortune 500 companies including Edward Jones, Scottrade, AT&T, Emerson Electric and his own firm, Johnson Computer Technologies. Although Clarence has worn many IT hats for the past 8 years, his primary focus is IT Security. Clarence has degrees in Electrical Engineering, and Business and is certified in many disciplines including: CISSP, CISM, CISA, CRISC, CEH, Security+, CCNA, RHCE, Linux+, and Cloud. In 2011 Clarence won the National ARIN Fellowship award where he represented the United States.
Required fields are indicated by .
*Academic Unit eligibility to be determined by college/university in which you are enrolled in a degree seeking program.