May Featured Instructor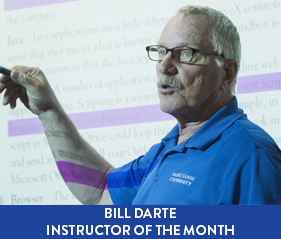 Bill is a Cyber Security instructor at SLU's Workforce Center. From our Information Security Essentials to our Cyber Security Certification classes (Certified Information System Security (CISSP) and CompTIA Security+), Bill can teach security students at all levels. He loves engaging students with real-world examples from his own professional experience and giving them relevant content to help them retain and apply new information. He has been an undergraduate and graduate instructor and developed numerous IT and project management related courses, workshops and executive roundtables during a 20+ year career with Washington University. Bill spent 17 years as an elected member of the Advisory Council to the Board of Trustees of the American Registry for Internet Numbers. He also helped found and is the former Executive Director of PandemicPrep.Org, a non-profit collaborative organization helping the St. Louis region better understand and prepare for the impacts of pandemic and bioterrorism incidents.
Required fields are indicated by .
*Academic Unit eligibility to be determined by college/university in which you are enrolled in a degree seeking program.