Course Description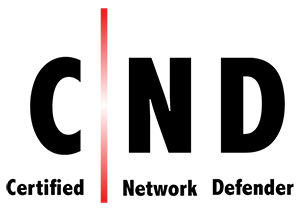 Organizational focus on cyber defense is more important than ever as cyber breaches have a far greater financial impact and can cause broad reputational damage. Despite best efforts to prevent breaches, many organizations are still being compromised. Therefore, organizations must have, as part of their defense mechanisms, trained network engineers who are focused on protecting, detecting, and responding to the threats on their networks.
The Certified Network Defender (CND) test preparation and review course focuses on creating Network Administrators who are trained on protecting, detecting and responding to the threats on the network. Network administrators are usually familiar with network components, traffic, performance and utilization, network topology, location of each system, security policy, etc. A CND will get the fundamental understanding of the true construct of data transfer, network technologies, software technologies so that the they understand how networks operate, understand what software is automating and how to analyze the subject material. In addition, network defense fundamentals, the application of network security controls, protocols, perimeter appliances, secure IDS, VPN and firewall configuration, intricacies of network traffic signature, analysis and vulnerability scanning are also covered which will help the Network Administrator design greater network security policies and successful incident response plans.
Certified Network Defender (CND ) is a vendor-neutral, hands-on, instructor-led comprehensive network security certification training program. It is a skills-based, lab intensive program based on a job-task analysis and cybersecurity education framework presented by the National Initiative of Cybersecurity Education (NICE). The course has also been mapped to global job roles and responsibilities and the Department of Defense (DoD) job roles for system/network administrators. The course is designed and developed after extensive market research and surveys.
Course Outline
Module 01: Computer Network and Defense Fundamentals.
Module 02: Network Security Threats, Vulnerabilities, and Attacks.
Module 03: Network Security Controls, Protocols, and Devices.
Module 04: Network Security Policy Design and Implementation.
Module 05: Physical Security.
Module 06: Host Security.
Module 07: Secure Firewall Configuration and Management.
Module 08: Secure IDS Configuration and Management.
Module 09: Secure VPN Configuration and Management.
Module 10: Wireless Network Defense.
Module 11: Network Traffic Monitoring and Analysis.
Module 12: Network Risk and Vulnerability Management.
Module 13: Data Backup and Recovery.
Module 14: Network Incident Response and Management.
Learner Outcomes
This course helps students prepare for EC-Council's Certified Network Defender (CND) exam. A Certified Network Defender (CND) exam fees/voucher is included in the course.
Prerequisites
This course is designed for Network Administrators, Network security Administrators, Network Security Engineer, Network Defense Technicians, CND Analyst, Security Analyst, Security Operator, anyone who involves in network operations.
Duration
5 Days | 10 Nights
Required fields are indicated by .
*Academic Unit eligibility to be determined by college/university in which you are enrolled in a degree seeking program.