Course Description
This course provides a review of topics and exam preparation for the Certified Hacking Forensic Investigator (CHFI) exam. The CHFI v9 Certification Training Camp is a 5-day or 10-night hands-on interactive course that covers using today's tools in the forensic trade, including software, hardware and specialized techniques used in computer hacking forensic investigation or in the process of detecting hacking attacks and properly extracting evidence to report the crime and conduct audits to prevent future attacks. This knowledge or certification applies to security officers, auditors, security professionals, site administrators, and really anyone who is concerned about digital evidence acquisition, or handling and analysis in a forensically sound manner. In this course students prepare for the CHFI exam by studying the forensic trade through lectures and hands-on lab exercises. In addition, the application and testing process for the CHFI as well as key topics on the exam are covered.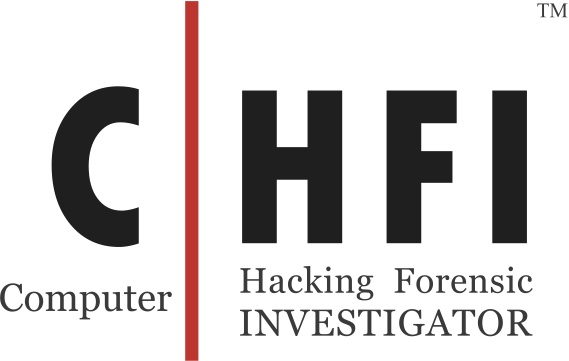 Course Outline
Computer Forensics in Today's World
Computer Forensics Investigation Process
Understanding Hard Disks and File Systems
Data Acquisition and Duplicatoin
Defeating Anti-Forensics Techniques
Operating System Forensics
Network Forensics
Investigating Web Attacks
Database Forensics
Cloud Forensics
Malware Forensics
Investigating Email Crimes
Mobile Forensics
Forensics Report Writing and Presentation
Additional Information
The CHFI course package includes:
Physical courseware
6 months access to EC-Council's official Online lab environment (iLabs) with all tools pre-loaded into platform
Exam Details CHFI:
Exam Code: 312-49 (IBT), 312-49 (VUE) or EC0-349 (APTC)
Number of Questions: 150
Passing Score: 70%
Duration: 4 hours
Availability: Prometric Prime/ Prometric APTC/ VUE
Test Format: Multiple Choice
The Academic Unit Eligibility is based on contact hours, level of difficulty and certification exam results. Please note that college credit eligibility is a formal academic process that is unconnected to SLU's Workforce Center. We encourage all students to email their official exam results to info@workforcecenter.slu.edu so we can house pass/fail results in their student portal for verification.
Prerequisites
IT/forensics professionals with basic knowledge on IT/cybersecurity, computer forensics, and incident response
It is strongly recommended that you attend the CEH class before enrolling into CHFI program.
Duration
30 Hours | 5 Days or 10 Nights
Enroll Now - Select a section to enroll in
Required fields are indicated by .
*Academic Unit eligibility to be determined by college/university in which you are enrolled in a degree seeking program.