Course Description
EC-Council released the most advanced computer forensic investigation program in the world. This course covers major forensic investigation scenarios that enable you to acquire hands-on experience on various forensic investigation techniques and standard tools necessary to successfully carry-out a computer forensic investigation.
Battles between corporations, governments, and countries are no longer fought using physical force. Cyber war has begun and the consequences can be seen in everyday life. With the onset of sophisticated cyber-attacks, the need for advanced cybersecurity and investigation training is critical. If you or your organization requires the knowledge or skills to identify, track, and prosecute cyber criminals, then this is the course for you. You will learn how to excel in digital evidence acquisition, handling, and forensically sound analysis. These skills will lead to successful prosecutions in various types of security incidents such as data breaches, corporate espionage, insider threats, and other intricate cases involving computer systems.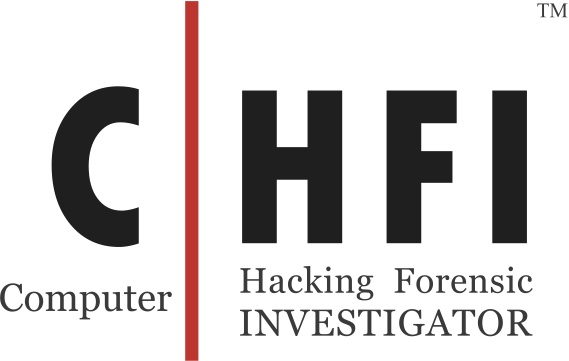 Course Outline
Module 01: Computer Forensics in Today's World

Module 02: Computer Forensics Investigation Process

Module 03: Understanding Hard Disks and File Systems

Module 04: Data Acquisition and Duplication

Module 05: Defeating Anti-Forensics Techniques

Module 06: Windows Forensics

Module 07: Linux and Mac Forensics

Module 08: Network Forensics

Module 09: Investigating Web Attacks

Module 10: Dark Web Forensics

Module 11: Database Forensics

Module 12: Cloud Forensics

Module 13: Investigating Email Crimes

Module 14: Malware Forensics

Module 15: Mobile Forensics

Module 16: IoT Forensics
Additional Information
The CHFI course package includes:
Physical courseware
6 months access to EC-Council's official Online lab environment (iLabs) with all tools pre-loaded into platform
6 month access to EC-Council official practice test questions (CyberQ)
Exam Details CHFI:
Exam Code: 312-49 (IBT), 312-49 (VUE) or EC0-349 (APTC)
Number of Questions: 150
Passing Score: 70%
Duration: 4 hours
Availability: Prometric Prime/ Prometric APTC/ VUE
Test Format: Multiple Choice
The Academic Unit Eligibility is based on contact hours, level of difficulty and certification exam results. Please note that college credit eligibility is a formal academic process that is unconnected to SLU's Workforce Center. We encourage all students to email their official exam results to info@workforcecenter.slu.edu so we can house pass/fail results in their student portal for verification.
Prerequisites
IT/forensics professionals with basic knowledge on IT/cybersecurity, computer forensics, and incident response
It is strongly recommended that you attend the CEH class before enrolling into CHFI program.
Duration
30 Hours | 5 Days or 10 Nights
Enroll Now - Select a section to enroll in
Required fields are indicated by .
*Academic Unit eligibility to be determined by college/university in which you are enrolled in a degree seeking program.