Course Description
Bootcamp | 30 hours | 3.0 CEUs | $3,495
The Cybersecurity Maturity Model Certification (CMMC) 2.0, managed by the Cyber AB, is a program which measures an organization's cybersecurity program's compliance with applicable cybersecurity practices. After full rollout, all contracts providing products or services to the US DoD must obtain the required level of certification under this program in accordance with the DFARS 252.204-7021 clause once rule-making completes in 2023.
This course prepares you for the Certified CMMC Professional (CCP) certification exam. The Certified CMMC Professional (CCP) certification exam is the first step in becoming a Certified Assessor, and it also certifies you as a valuable resource for any organizations needing CMMC support and guidance. In this course, you will learn about the CMMC Model, framework, context, and application within the DoD, as well as the expectations and requirements imposed upon organizations that do business with the DoD. It will also help students to identify threats to cybersecurity and privacy and implement appropriate countermeasures. Topics include understanding the CCMC Model, domains, and practices along with understanding roles, responsibilities, rights, limitations, and inter-relationships between all entities across the Cyber AB ecosystem.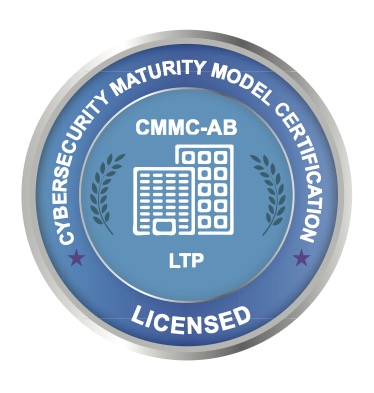 Course Outline
In this course, you will:

Identify the threats to the Defense Supply Chain and the established regulations and standards for managing the risk.
Identify the sensitive information that needs to be protected within the Defense Supply Chain and how to manage it.
Describe how the CMMC Model ensures compliance with federal acquisitions regulations.
Identify responsibilities of the Certified CMMC Professional, including appropriate ethical behavior.
Establish the Certification and Assessment scope boundaries for evaluating the systems that protect regulated information.
Prepare the OSC for an Assessment by evaluating readiness.
Use the CMMC Assessment Guides to determine and assess the Evidence for practices.
Implement and evaluate practices required to meet CMMC Level 1.
Identify the practices required to meet CMMC Level 2.
As a CCP, work through the CMMC Assessment process.
Additional Information
This course is a prerequisite for the Certified CMMC Professional program, and it prepares students for the Certified CMMC Professional (CCP) certification exam. Students might consider taking this course to learn how to perform CMMC certification readiness checks within their own organization, or as a consultant to other Organizations Seeking Certification (OSC). The CCP certification is also a required step toward becoming a Certified CMMC Assessor (CCA), so students might take this course to begin down the path toward CCA certification.
Other CMMC offerings that might interest you:
Prerequisites
There are no prerequisites for this course.
Duration
30 Hours | 5 Days or 10 Nights
Applies Towards the Following Certificates
Enroll Now - Select a section to enroll in
Required fields are indicated by .
*Academic Unit eligibility to be determined by college/university in which you are enrolled in a degree seeking program.