Course Description
Bootcamp | 30 hours | 3.0 CEUs | $3,760
CISSP training course and exam prep. This course provides a comprehensive review of security topics and exam preparation for the Certified Information Systems Security Professional (CISSP) certification. The CISSP is globally recognized as an objective measure of competence and achievement for information security professionals. In this course, students review the 8 domains of the information security practice or common body of knowledge (CBK). Some of the topics include security models, distributed access control methods, DBMS architectures, key cryptography algorithms, intrusion detection systems, and data network components and technologies. Other topics include the application and testing process as well as key test topics and practice questions.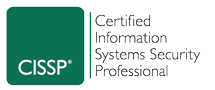 Course Outline
Security and Risk Management (Security, Risk, Compliance, Law, Regulations, and Business Continuity)

Confidentiality, integrity, and availability concepts
Security governance principles
Compliance
Legal and regulatory issues
Professional ethic
Security policies, standards, procedures and guidelines

Asset Security (Protecting Security of Assets)

Information and asset classification
Ownership (e.g. data owners, system owners)
Protect privacy
Appropriate retention
Data security controls
Handling requirements (e.g. markings, labels, storage)

Security Engineering (Engineering and Management of Security)

Engineering processes using secure design principles
Security models fundamental concepts
Security evaluation models
Security capabilities of information systems
Security architectures, designs, and solution elements vulnerabilities
Web-based systems vulnerabilities
Mobile systems vulnerabilities
Embedded devices and cyber-physical systems vulnerabilities
Cryptography
Site and facility design secure principles
Physical security

Communication and Network Security (Designing and Protecting Network Security)

Secure network architecture design (e.g. IP & non-IP protocols, segmentation)
Secure network components
Secure communication channels
Network attacks

Identity and Access Management (Controlling Access and Managing Identity)

Physical and logical assets control
Identification and authentication of people and devices
Identity as a service (e.g. cloud identity)
Third-party identity services (e.g. on-premise)
Access control attacks
Identity and access provisioning lifecycle (e.g. provisioning review)

Security Assessment and Testing (Designing, Performing, and Analyzing Security Testing)

Assessment and test strategies
Security process data (e.g. management and operational controls)
Security control testing
Test outputs (e.g. automated, manual)
Security architectures vulnerabilities

Security Operations (Foundational Concepts, Investigations, Incident Management, and Disaster Recovery)

Investigations support and requirements
Logging and monitoring activities
Provisioning of resources
Foundational security operations concepts
Resource protection techniques
Incident management
Preventative measures
Patch and vulnerability management
Change management processes
Recovery strategies
Disaster recovery processes and plans
Business continuity planning and exercises
Physical security
Personnel safety concerns

Software Development Security (Understanding, Applying, and Enforcing Software Security)

Security in the software development lifecycle
Development environment security controls
Software security effectiveness
Acquired software security impact
Learner Outcomes
The vendor-neutral CISSP certification is the ideal credential for those with proven deep technical and managerial competence, skills, experience, and credibility to design, engineer, implement, and manage their overall information security program to protect organizations from growing sophisticated attacks.
Additional Information
SLU's CISSP Course Kit: (included in the course fee):
CISSP Exam Guide and Practice Exams
Boson Certification Exam Prep
SLU Workforce Center Slides and Study Tips
Exam Details CISSP:
125 - 175 questions
Multiple choice and advanced innovative questions
Length of test: Up to 4 hours
Delivery Method - Computer Adaptive Testing (CAT)
Passing score is 700 out of 1000
The Academic Unit Eligibility is based on contact hours, level of difficulty and certification exam results. Please note that college credit eligibility is a formal academic process that is unconnected to SLU's Workforce Center. We encourage all students to email their official exam results to info@workforcecenter.slu.edu so we can house pass/fail results in their student portal for verification.
Prerequisites
Candidates must have a minimum of 5 years cumulative paid full-time work experience in two or more of the 8 domains of the (ISC)² CISSP CBK®.
OR
Candidates may receive a one year experience waiver with a 4-year college degree, or regional equivalent or additional credential from the (ISC)² approved list, thus requiring four years of direct full-time professional security work experience in 2 or more of the 8 domains of the CISSP CBK.
Duration
30 Hours | 5 Days or 10 Nights
Testimonials
"Instructor did an outstanding job with the class. Very pleased!" - Boeing
"The information came at us fast but the instructor provided real world examples to make the concepts stick." - Centene
Applies Towards the Following Certificates
Enroll Now - Select a section to enroll in
Required fields are indicated by .
*Academic Unit eligibility to be determined by college/university in which you are enrolled in a degree seeking program.