Course Description
This course provides a review of topics and exam preparation for the CompTIA® Network+® Exam. This course builds on your existing user-level knowledge and experience with personal computer operating systems and networks to present the fundamental skills and concepts that you will need to use on the job in any type of networking career. The CompTIA® Network+® (Exam N10-006) course can benefit you in two ways. It can assist you if you are preparing to take the CompTIA Network+ examination. Also, if your job duties include network troubleshooting, installation, or maintenance, or if you are preparing for any type of network-related career, it provides the background knowledge and skills you will require to be successful. In this course, you will describe the major networking technologies and systems of modern networks, and be able to configure, manage, and troubleshoot modern networks.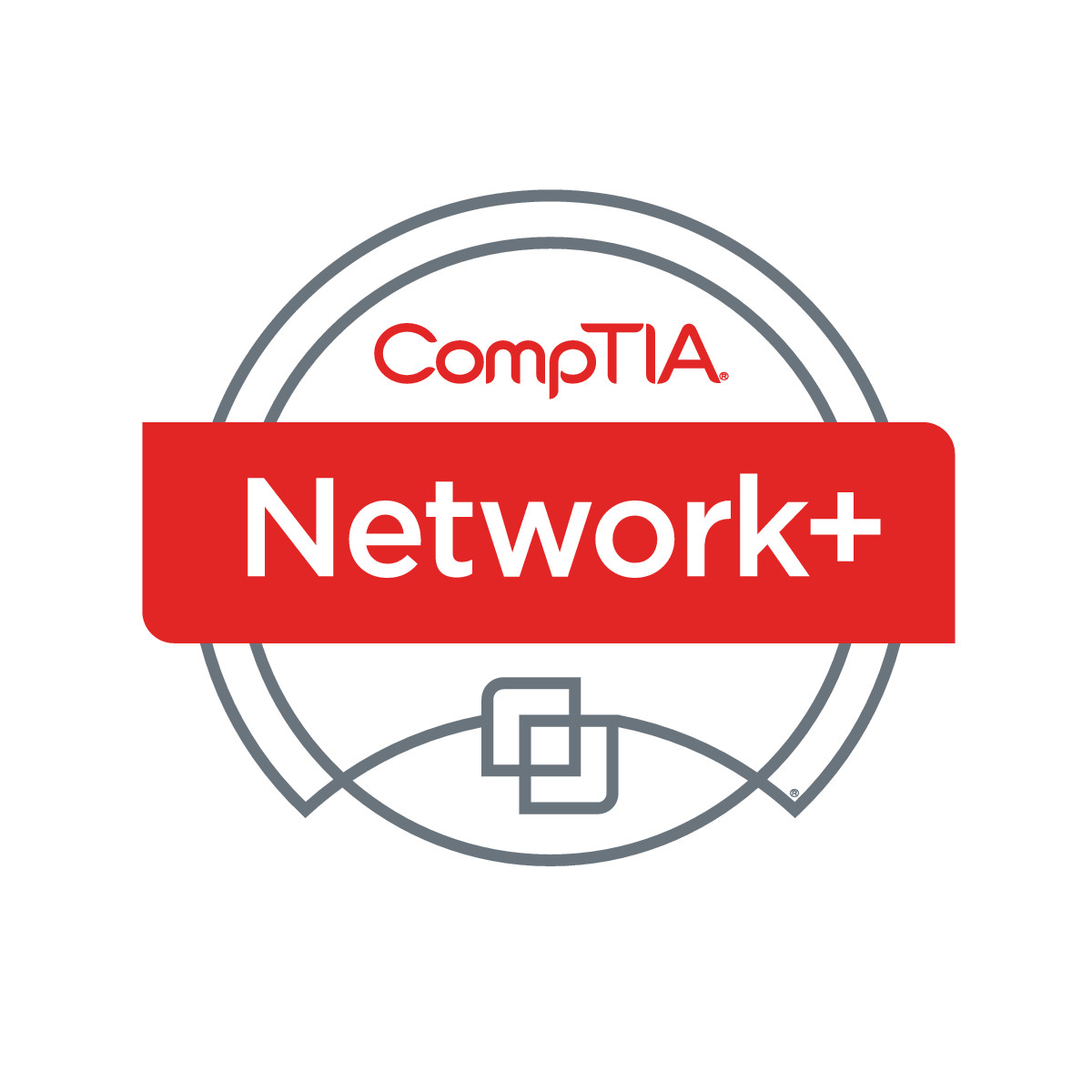 Course Outline
Network Theory
Networking Overview
Network Standards and the OSI Model
Network Types
Identify Network Configurations
Data Transmission Methods
Bounded Network Media Copper Media
Fiber Optic Media
Bounded Network Media Installation
Noise Control
Unbounded Network Media Wireless Networking
Wireless Network Devices and Components
Install a Wireless Network
Network Implementations
Physical Network Topologies
Logical Network Topologies
Ethernet Networks
Network Devices
VLANs
TCP/IP Addressing and Data Delivery
The TCP/IP Protocol Suite
IPv4 Addressing
Default IP Addressing Schemes
Create Custom IP Addressing Schemes
IPv6 Address Implementation
Delivery Techniques
Routing
Enable Static Routing
Implement Dynamic IP Routing
TCP/IP Services
Assign IP Addresses
Domain Naming Services
TCP/IP Commands
Common TCP/IP Protocols
WAN Infrastructure
WAN Basics
WAN Connectivity Methods
WAN Transmission Technologies
Unified Communication Technologies
Cloud and Virtualization Technologies
Virtualization
SAN Implementations
Cloud Computing
Network Security Basics
Introduction to Network Security
Vulnerabilities
Threats and Attacks
Authentication Methods
Encryption Methods
Preventing Security Breaches
Physical Security Controls
Network Access Controls
Install and Configure Firewalls
Harden Networks
Intrusion Detection and Prevention
Educate Users
Responding to Security Incidents
Incident Management and Response
Basic Forensic Concepts
Remote Networking
Remote Network Architectures
Remote Access Networking Implementations
Virtual Private Networking
VPN Protocols
Network Management
Network Monitoring
Configuration Management Documentation
Network Performance Optimization
Troubleshooting Network Issues
Network Troubleshooting Models
Network Troubleshooting Utilities
Hardware Troubleshooting Tools
Common Connectivity Issues
Troubleshoot Security Configuration Issues
Troubleshoot Security Issues
Additional Information
SLU's Network+ Course Kit (included in the course fee):
Online portal for realistic practice exams
The Academic Unit Eligibility is based on contact hours, level of difficulty and certification exam results. Please note that college credit eligibility is a formal academic process that is unconnected to SLU's Workforce Center. We encourage all students to email their official exam results to info@workforcecenter.slu.edu so we can house pass/fail results in their student portal for verification.
Prerequisites
There are no prerequisites for this course, but we recommend Networking Essentials (NWK100), CompTIA A+ certification, or equivalent skills before taking this course.
Duration
30 Hours | 5 Days or 10 Nights
Applies Towards the Following Certificates
Enroll Now - Select a section to enroll in
Required fields are indicated by .
*Academic Unit eligibility to be determined by college/university in which you are enrolled in a degree seeking program.