Course Description
This course provides a review of topics and exam preparation for the CRISC (Certified in Risk and Information Systems Control) certification. The CRISC Certification is an industry-leading program that prepares and enables IT professionals for the unique challenges of IT and enterprise risk management, and positions them to become strategic partners to the enterprise. CRISC is designed for IT professionals who have hands-on experience with risk identification, assessment, and evaluation; risk response; risk monitoring; IS control design and implementation; and IS control monitoring and maintenance.
In this course students prepare for the CRISC exam by studying and understanding the 4 Domains:
Domain 1: IT Risk Identification
Domain 2: IT Risk Assessment
Domain 3: Risk Response Mitigation
Domain 4: Risk and Control Monitoring and Reporting
In addition, the application and testing process for the CRISC certification exam as well as key topics on the exam will be covered.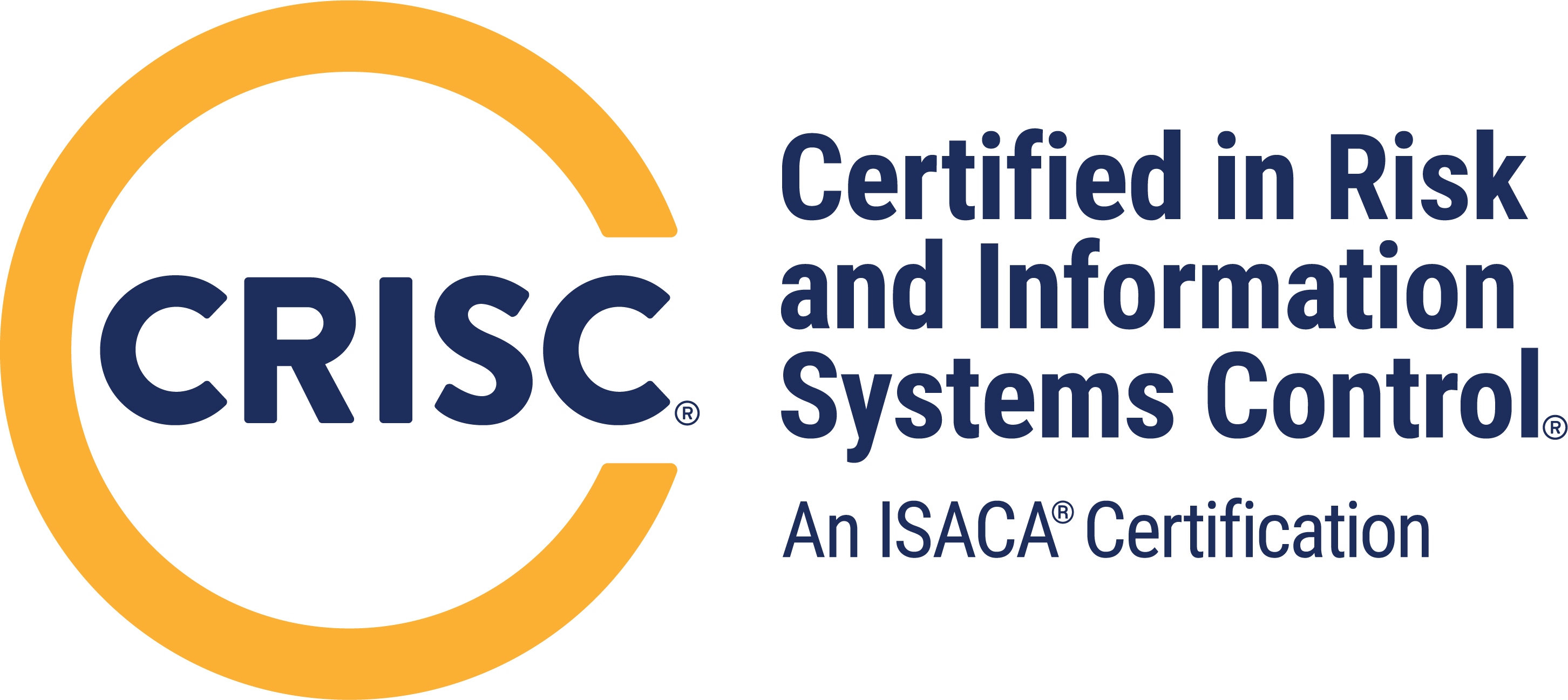 Course Outline
Day 1 - Risk identification, assessment and evaluation
Intro to Risk Management
System Development Life Cycles
Understanding the enterprise
Legal, regulatory and contractual requirements
Working with stakeholders
Asset management
Information threats
Vulnerability analysis
Understanding impacts
Validating risk appetite and tolerance

Day 2 - Risk Response & Risk Monitoring
Develop and implement risk responses
Evaluating risk response options
Validation of efficiency, effectiveness and economy
Developing of the risk profile
Developing of business cases
Collect and validate data that measure key risk indicators (KRIs)
Facilitating independent risk assessments and process reviews
Identifying and reporting
Day 3 - Information Systems Control Design and Implementation
Understanding of the business process objectives
Design information systems controls
Facilitate the identification of resource
Ensuring implementation within time, budget and scope
Provide progress reports
Implementing information systems controls
Identification of metrics and key performance indicators (KPIs)
Assess and recommend tools
Day 4 - Control Monitoring and Maintenance
Plan, supervise and conduct testing
Review information systems policies, standards and procedures
Using CMMI to evaluate the current state of information systems processes
Correcting information systems control deficiencies and maturity gaps
Provide information systems control status
Day 5 – Review and Practice Test
Understanding multiple-choice exams strategies
Time management for exam
Practice test and reviewing answers
Additional Information
SLU's CRISC Course Kit: (included in the course fee):
CRISC Review Manual by ISACA
CRISC Review Questions, Answers & Explanations Subscription by ISACA
Prerequisites
IT professionals interested in earning CRISC (Certified in Risk and Information Systems Controls) certification. CRISC is for IT professionals, risk professionals, business analysts, project manager and/or compliance professionals, who work towards evaluation and mitigation of risk, and who have job experience in the following areas: Risk identification, assessment and evaluation, Risk response and monitoring and IS control design/monitoring and implementation/maintenance. To register for the exam, individuals must provide evidence of appropriate work experience in risk management and information system control as defined by the CRISC® job practice.
Duration
30 Hours | 5 Days or 10 Nights
Applies Towards the Following Certificates
Enroll Now - Select a section to enroll in