Course Description
30 hours | 3 CEUs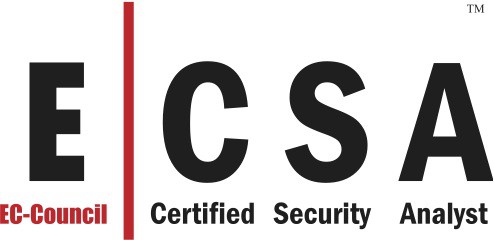 While the Certified Ethical Hacker certification exposes the learner to hacking tools and technologies, the Certified Security Analyst course takes the process a step further by exploring how to analyze the outcome from these tools and technologies. This ECSA penetration testing course provides you with a real-world hands-on penetration testing experience and is a globally accepted hacking and penetration testing class that covers the testing of modern infrastructures, operating systems and application environments while teaching the students how to document and write a penetration testing report. This is accomplished through groundbreaking network penetration testing methods and techniques; this pen testing computer security certification helps students perform the intensive assessments required to effectively identify and mitigate risks to the information security of the infrastructure.
The EC-Council Certified Security Analyst (ECSA) course prepares you for the EC-Council Security Analyst v10 (ECSA) Exam. The ECSA exam aims to test a candidate's knowledge and application of critical penetration testing methodologies. Candidates that successfully pass the multiple-choice exam (ECSAv10 Multiple Choice Certification Exam) will be awarded the ECSA credential. This certification exam (ECSAv10 Multiple Choice Certification) is included in the course and is offered optionally as a proctored exam on the last day of class, as an alternative to taking the exam on the last day, students can also opt for a voucher.
As a powerful addition to the ECSA exam (ECSAv10 Multiple Choice Certification), the new ECSA (Practical) exam is now available adding even more value to the ECSA certifications, the ECSA Practical Exam is not included in the cost of this course.

Course Outline
Introduction to Penetration Testing and Methodologies

Penetration Testing Scoping and Engagement Methodology

Open Source Intelligence (OSINT) Methodology

Social Engineering Penetration Testing Methodology

Network Penetration Testing Methodology - External

Network Penetration Testing Methodology - Internal

Network Penetration Testing Methodology - Perimeter Devices

Web Application Penetration Testing Methodology

Database Penetration Testing Methodology

Wireless Penetration Testing Methodology

Cloud Penetration Testing Methodology

Report Writing and Post Testing Actions
Prerequisites
This course is designed for Ethical Hackers, Penetration Testers, Security Analysts, Security Engineers, Network Server Administrators, Firewall Administrators, Security Testers, System Administrators, and Risk Assessment Professionals.

In order to be eligible for the ECSA Exam students must:

Attend official training via an EC-Council accredited training channel

Or, p

ossess a minimum of 2 years of working experience in a related InfoSec domain

The Saint Louis University is an official EC Council Accredited Training Center and all students who complete our ECSA test prep and review will qualify.
Duration
30 Hours | 5 Days or 10 Nights
Required fields are indicated by .
*Academic Unit eligibility to be determined by college/university in which you are enrolled in a degree seeking program.